or walk the plank!

I didn't take one of these taxis, but I thought they were pretty cool looking.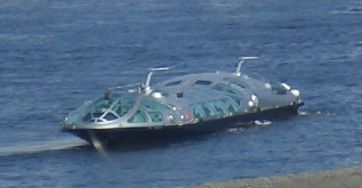 I suspect they're pretty handy, given how long it can take to drive from one side of Sydney to the other – especially if you've got to get across the bay (or harbour, or whatever they call it).
I got a sense the system could be abused pretty easily though. I had thoughts of Chris DeBurgh and ferrymen the first time I saw one of these taxis. But I'm sure they screen the drivers pretty well.
I hope. ^.^